Dr. Donald M. Goldstein
Dr. Donald M. Goldstein is Professor Emeritus and former Director of the Graduate School of Public & International Affairs of Matthew B. Ridgway Center for international Security Studies at the University of Pittsburgh. A veteran of the Korean War, he is a retired Air Force officer who served for 22 years. He has taught courses in history, public administration, political science, arms control, national security, theory, and practice of international affairs, American foreign policy, international relations and military history.
Dr. Goldstein is the author of over 60 articles and 22 books including At Dawn We Slept, which was runner up for the Pulitzer Prize in 1981 and on the Best Seller List of the New York Times for 47 weeks. He won two Peabody Awards for historical work with ABC and was the winner of the National Association of Public Administrators Teacher of the Year as well as the Chancellor's Distinguished Teacher at the University of Pittsburgh.
He serves as a consultant for NBC, ABC, CBS, PBS, History Channel, and NHK (Japan). He earned a Bachelor of Arts Degree in History and a Master of Arts Degree in History from the University of Maryland. He also holds Master of Science Degrees in Political Science from Georgetown University and in Public Administration from George Washington University. Goldstein earned his Doctor of Philosophy Degree in History from the University of Denver in 1970. He is married with four children. He and his wife Mariann, reside in Florida.
Carol Aiko DeShazer Dixon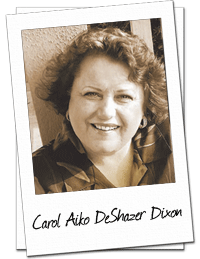 Carol Aiko DeShazer Dixon is the first daughter of Jacob and Florence DeShazer. She was born in Kobe, Japan and her middle name "Aiko" means "love-child" in Japanese.
Carol Aiko spent most of her childhood being home-schooled by her mother or attending military and mission schools in Japan. She graduated from Christian Academy in Japan (CAJ) high school before attending Aldersgate College in Saskatchewan, Canada and earning a Bachelor of Arts Degree in Christian Education. At Aldersgate, Carol Aiko met a Canadian from British Columbia, Ken Dixon. They were married in Tokyo, Japan by her father on December 19, 1974 and spent the next year in Tokyo assisting Carol Aiko's parents in their missionary work, teaching English and studying Japanese.
Carol Aiko then attended Spring Arbor College and graduated with a Bachelor of Arts Degree in Social Science and Elementary Education. She did her student teaching at Seattle Pacific University in Seattle Washington, the same school her father and mother attended. It was in Seattle that Carol Aiko and Ken's two children, Laura and Peter, were born. Carol Aiko and Ken will eventually retire in the Pacific Northwest to be closer to their families.
It was during Carol Aiko and Ken's year in Tokyo, Japan living and working with her parents that Carol Aiko gained a greater appreciation for her parents and their ministry and all the sacrifices they had made for her and her siblings. She is very passionate about her parent's legacy and feels strongly that it needs to be told accurately. Carol Aiko wants the world to know more about their work. She is presently working to make her parent's story more available through documentaries, books and other media.